10 Oct 2018 (All day)
Registrations are now open for the 2018 National Landcare Conference and Awards. The event will be held from 10 - 12 October 2018 at the Brisbane Convention and Exhibition Centre.
It's a fantastic opportunity to gather with the Landcare community and hear about the inspiring work that's being done across our country.
The theme of the Conference is 'Landcare - Building a Better Tomorrow', with presentations to be based around the following stream topics:
Sustainable Agriculture – Innovation and Conservation in a Changing Landscape
Community in Action – Grassroots with a Purpose
Partnerships – Collaboration for Successful Outcomes
Environment – Improving and Protecting our Natural Assets
10 Oct 2018 (All day)
Voting in the National Landcare Awards People's Choice Award is now open. This year, there are five finalists from our region, all in different categories (so you can vote for all five!):
We encourage you to vote for your favourite finalists today!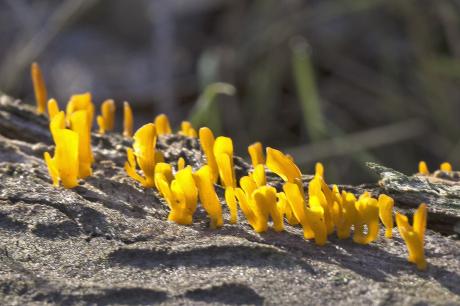 A forecast of a cold foggy morning did not deter four of us as we met at Glenn's place for the Livingstone Forest excursion. We travelled in one car to the advertised meeting place at the Uranquinty Bakery. Despite being foggy all the way, Nella found that by keeping the speed down as did all the other drivers on the road, the driving wasn't at all onerous.  We had allowed for slower travel and in fact arrived at the Bakery with 10 minutes before the meeting time of 9am.  Naturally we waited for others to turn up with a coffee.
Encouraged by the friendly service – advising us to sit at the warmest table – we waited until 9:30 before continuing on minus more company.  Approaching the National Park we encountered gaps in or rose above the fog.  In one of the gaps Nella spotted a number of Flame Robins scattered along the roadside fences.  Thoughts were that we should see more in Livingstone.
Murrumbidgee Field Naturalists were asked if we would be interested in doing some monitoring of the recently installed nestboxes at Fivebough Wetlands. They were made and installed last year by the Work for the Dole crew who have done such fantastic work down there.
We were definitely interested in putting our newly acquired nest box inspection camera to use and agreed to have a look and see what we could find. We assembled on a Tuesday morning, 4 September equipped with GPS's, a ladder and camera.
The task involved wandering through the young woodlands, finding the nestboxes, numbering them with tags then logging their GPS co-ordinates. We found 34 boxes and that there were two styles of boxes used.
21 Oct 2018 - 8:15am
Kyeamba Valley Landcare Group invite you to join us for an interesting and enjoyable Sunday bus tour! Departing from and returning to Ladysmith Hall, we will visit Green Gate Organic Farm and Holbrook Paddock Eggs, with a lunch stop at Holbrook (BYO picnic, or purchase your lunch from one of the cafes in town).
30 Sep 2018 - 10:00am
Wagga Wagga Urban Landcare invite you to join us for a Spring Wildflower Walk at Galore Hill Scenic Reserve.
Nella Smith, of the Murrumbidgee Field Naturalists, will lead us on a leisurely walk at this stunning reserve. We'll explore the native plants and animals, and admire the 360 degree views from the top of the hill, then enjoy a BBQ lunch.
All welcome!
25 Sep 2018 - 9:00am
Yass Area Network of Landcare Groups is hosting a workshop with Stephen Bruce from Greening Australia to discuss native plant id techniques, and native seed collection, cleaning and storage techniques.
Location: Bookham Memorial Hall for theory, Bookham
Cemetery for plant id (approx. 10kms from hall)
Time: 9am to 3pm.
Cost: $10 to assist with catering costs, payable on the day
Bring: Computer
» read more