28 Nov 2018 (All day)
For the next 3 months, you can help Wagga Wagga Urban Landcare raise funds by choosing to donate your
Return 
& Earn
refund to us!
Wagga Wagga Urban Landcare are now listed as a donation partner on the Reverse Vending Machines at Woolworths Wagga Wagga North (Gurwood St) and Woolworths Lake Albert Road. Simply return your containers as normal, then select the option on the machine to donate your refund, and pick Wagga Urban Landcare as your donation partner.
Please help Wagga Landcare raise funds, by returning all your drink containers over the Christmas/New Year period!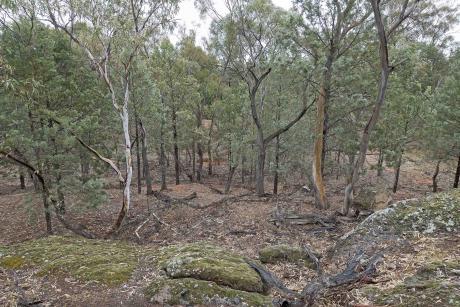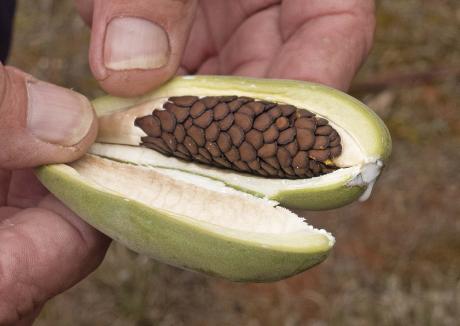 A small group of MFNs and Max Harris, a local Koori man, gathered at the Mallinson Road site. After a brief discussion on the unlikelihood of adding new season annuals to our autumn plant survey list, due to the dry conditions, we decided to survey a different site off the Rankin Springs Road. The Wiradjuri name for the site is Wirrimbirra (keep, preserve, take care of) Yalul (always).
Wirrimbirra Yalul has rocky outcrops on a hill with gentle slopes that lead down from it. It's several hectares in area but due to frequent rain showers which eventually became heavier, we didn't explore the entire patch. On our arrival, Max pointed out stone artefacts (and their traditional uses) near the remains of a gravel deposit. He was very informative about Wiradjuri history and culture as well as the flora and fauna of the place. We had interesting exchanges about cultural bias with scientific names and common names, in English and Aboriginal languages. Max is well versed in all three naming systems and is very generous in sharing his knowledge.
In listing the plants and birds we noted at Wirrimbirra Yalul, the Wiradjuri names are added as they are recorded in "A New Wiradjuri Dictionary" compiled by Dr. Stan Grant (Senr) and Dr. John Rudder,2010. Words with * indicate they can be heard on the Free Wiradjuri Language App where they are pronounced  by Wiradjuri speakers, listed under the English common name. There are hundreds of words and phrases listed there to explore. A brief pronunciation guide for readers not using the App is provided at the end of the list.
14 Jan 2019 (All day)
Meet and greet your reptilian neigbours!
The annual Snakes Alive! is on again in Canberra. There will be live displays, feeding and handling of snakes, lizards, frogs, turtles and crocodiles.
This is the major event of the year for the ACT Herpetological Association and is aimed at both children and adults. It is a fun, entertaining and educational event on the value of reptiles in both the wild and as pets.
11 Jan 2019 - 11:30pm
"Smart Farms Small Grants" is a $55 million competitive small grants program over several rounds to support the adoption of best practices that improves the management and quality of our natural resources and increases on-farm productivity.
» read more