10 Oct 2018 (All day)
Voting in the National Landcare Awards People's Choice Award is now open. This year, there are five finalists from our region, all in different categories (so you can vote for all five!):
We encourage you to vote for your favourite finalists today!
The Henty Field Days are fast approaching, and will take place from Tuesday 18 to Thursday 20 September.
The Field Days attract over 60,000 people from across the Riverina and Murray areas, so it is a great opportunity to spread the word about what we are doing in Landcare, and to promote sustainable agriculture and natural resource management.
We would love your group (either Landcare, community or agricultural) to assist us with our display this year! There are two opportunities available: providing information / resources to display in the shed, and volunteering to help in the shed during the event.
Your involvement can be as big or as small as you are able to manage; we'd really like to include all of our Landcare network in the event, so please
contact us
to find out how you can be involved.
26 Aug 2018 - 10:00am
Wagga Wagga Urban Landcare invite you to join local carnivorous plant enthusiast and trained horticulturalist, Gary Johnson, for a
guided walk
of local populations of our little known carnivorous plants!
Gary will explain the unique role these plants play in our native ecosystems, and share some secrets about the special conditions required to successfully grow them.
This guided walk is FREE, and light refreshments will be provided. Please RSVP (for catering) to Nicole Maher:
nmaher@mli.org.au
, or 0438 452 814.
More details available
here
.
Please bring sturdy walking shoes, hat & water bottle.
Location: POMINGALARNA RESERVE
Meet at the car park accessed off Sturt Hwy, past the San Isadore turn off
29 Aug 2018 - 9:00am
Come along to celebrate the launch of the Saving our Superb Parrot Habitat restoration project, with information on the 4 year project, funding opportunities and how land managers can get involved!
There will be a walk and talk at Bennett Springs TSR with Damon Oliver (OEH), Graham Fifield (Greening Australia), Susie Jackson (NPWS) and Mikla Lewis (Young-Weddin Landcare) showing land managers how to identify potential habitat assets for protection and restoration for Superb Parrots.
When: 9am-1pm, Wednesday 29 August 
» read more
30 Aug 2018 - 10:00am
This all day event is an opportunity for women to learn more about farm diversification and sustainable lifestyles, to create more resilient farm businesses. Joined by regional experts, pioneers and local businesses, this will be a great opportunity to learn, make connections, and explore ideas!
Morning tea, lunch and refreshments provided.
Where: West Wyalong Services Club
» read more
9 Sep 2018 - 10:00am
The Junee Area Landcare Network presents a paddock walk and BBQ. Come along to learn about shelterbelts and riparian management!
Location: Phil Turner's "Briarleigh", Junee NSW 2663
If you would like more information, or to RSVP, please contact Annie Jacobs: 0429 458 717 or midmurrumbidgeenorth@mli.org.au
» read more
Join us
 for an interactive, informative and fun evening discussing selfcare through nutrition and mindfulness!
Presenters will include:
Narelle Hunter, rural mindfulness and stress management expert through her "Blissfully Present" group
Bring: Comfortable clothing, an exercise mat or towel, cushion and blanket
Cost: $15, includes light refreshments
10 Oct 2018 (All day)
Registrations are now open for the 2018 National Landcare Conference and Awards. The event will be held from 10 - 12 October 2018 at the Brisbane Convention and Exhibition Centre.
It's a fantastic opportunity to gather with the Landcare community and hear about the inspiring work that's being done across our country.
The theme of the Conference is 'Landcare - Building a Better Tomorrow', with presentations to be based around the following stream topics:
Sustainable Agriculture – Innovation and Conservation in a Changing Landscape
Community in Action – Grassroots with a Purpose
Partnerships – Collaboration for Successful Outcomes
Environment – Improving and Protecting our Natural Assets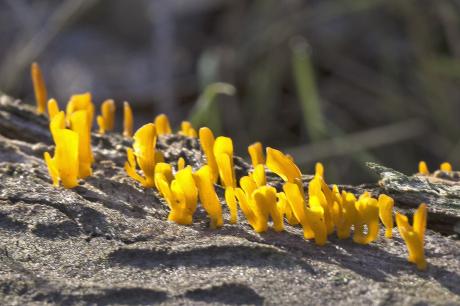 A forecast of a cold foggy morning did not deter four of us as we met at Glenn's place for the Livingstone Forest excursion. We travelled in one car to the advertised meeting place at the Uranquinty Bakery. Despite being foggy all the way, Nella found that by keeping the speed down as did all the other drivers on the road, the driving wasn't at all onerous.  We had allowed for slower travel and in fact arrived at the Bakery with 10 minutes before the meeting time of 9am.  Naturally we waited for others to turn up with a coffee.
Encouraged by the friendly service – advising us to sit at the warmest table – we waited until 9:30 before continuing on minus more company.  Approaching the National Park we encountered gaps in or rose above the fog.  In one of the gaps Nella spotted a number of Flame Robins scattered along the roadside fences.  Thoughts were that we should see more in Livingstone.